Ak sa máme baviť o dezertoch, tento 6-zložkový nepečený karamelový koláč od Chutné bude určite na prvom mieste môjho zoznamu. Je to raj pre všetkých milovníkov čokolády. Karamel v kombinácii s krémovou čokoládou je jednoducho neodolateľný. Všetko je ideálne pre túto mňamku!
Ingrediencie
24 čokoládových sušienok
4 lyžice masla (roztopené)
1 1/2 šálky cukru
1/2 šálky vody
1/2 šálky hustej smotany
1/2 lyžičky vanilky
1/2 šálky hustej smotany
6 uncí tmavej čokolády
morská soľ na polevu
Inštrukcie
Krok 1:
Vložte sušienky do plastového vrecka a pomocou valčeka ich rozdrvte na jemnú strúhanku. Môžete tiež použiť kuchynský robot, aby ste to urýchlili a urobili to čo najjemnejšie.
Krok 2:
Do veľkej misy pridajte strúhanku a rozpustené maslo. Miešajte, kým sa nezhlukuje.
Krok 3:
Vezmite si formu na košíčky a do každej šálky pridajte lyžicu strúhankovej zmesi. Vytvarujte z neho kôrku a potom ju vložte do mrazničky asi na 2 hodiny.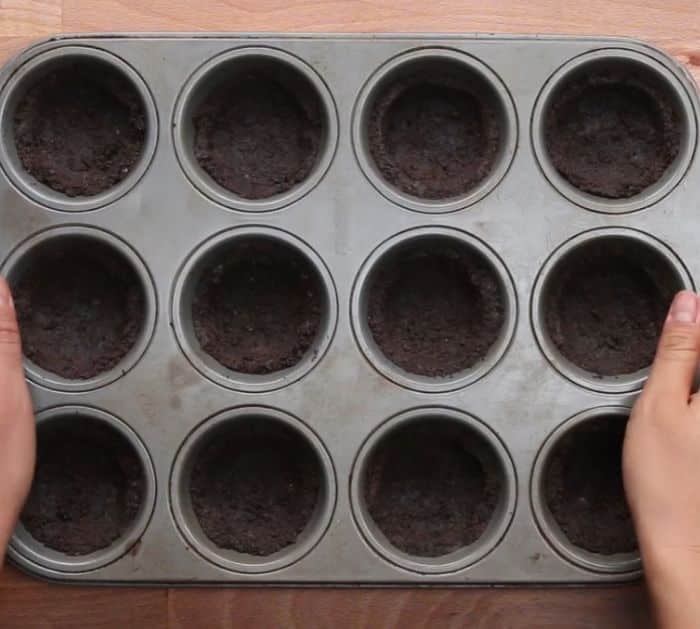 Krok 4:
Vezmite stredný hrniec, pridajte cukor a vodu a zahrievajte, kým sa nestane jantárovo hnedou. Uistite sa, že ho nemiešajte.
Krok 5:
Odstráňte z tepla a nalejte hustú smotanu a vanilku. Miešajte, kým sa nevytvorí karamel. Berte na vedomie, že keď pridáte smotanu, cukor bude vrieť, preto ho opatrne premiešajte.
Krok 6:
Okamžite nalejte karamel do keksovej kôry a nechajte ho stáť, kým karamel nebude pevný asi 5 minút.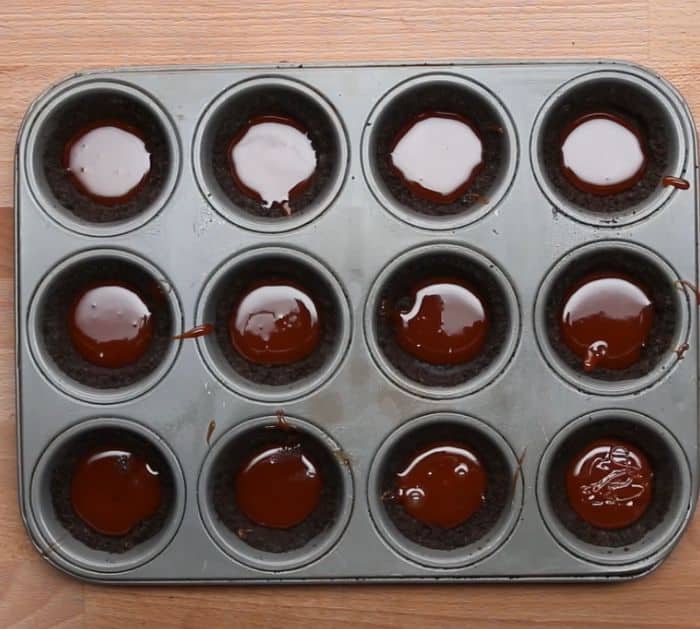 Krok 7:
Zahrejte hustú smotanu a pridajte tmavú čokoládu. Pred miešaním nechajte minútu postáť. Miešajte do hladka.
Krok 8:
Na karamel nalejte lyžicu čokolády a vložte do chladničky. Dáme do chladničky na hodinu alebo kým nie je čokoláda pevná. Posypte torty trochou morskej soli, aby ste vyvážili sladkosť, ak chcete. Užite si to!
6-zložkové nepečené karamelové torty