Vytvorenie tohto receptu na lahodný dezert môj život, moja kuchyňa na YouTube sa pripravuje veľmi jednoducho a rýchlo! Na prípravu tohto dezertu z ingrediencií, ktoré už možno máte vo svojej kuchyni, vám postačí asi 15 minút. Toto je bezchybný recept, takže sa nemusíte báť, že to pokazíte, pretože to určite dokážete zdokonaliť aj na prvý pokus. Dúfam, že si tento dezert zamilujete rovnako ako ja, nech sa páči!
Ingrediencie:
180 gramov alebo 1¼ šálky z tmavej čokolády
120 gramov alebo ½ šálky z masla
4 vajcia
40 gramov alebo ¼ šálky cukru
3 polievkové lyžice múky
Štipka soli
Roztopené maslo
Kakaový prášok
Práškového cukru
Inštrukcie:
Krok 1
Čokolády nasekajte na tenké a malé kúsky, potom ich vložte do veľkej miešacej misky a odložte. Postavte hrniec naplnený vodou na sporák na stredne vysokú teplotu a priveďte ho do varu, potom naň položte misku nasekanej čokolády. Pridajte maslo a potom ich spolu nepretržite miešajte, kým sa neroztopia, nezapracujú a nebudú lesklé. V samostatnej miske pridajte vajce, cukor a soľ, potom ich všetko premiešajte, pridajte múku a pokračujte v šľahaní, zatiaľ čo pridávajte rozpustenú čokoládovú zmes.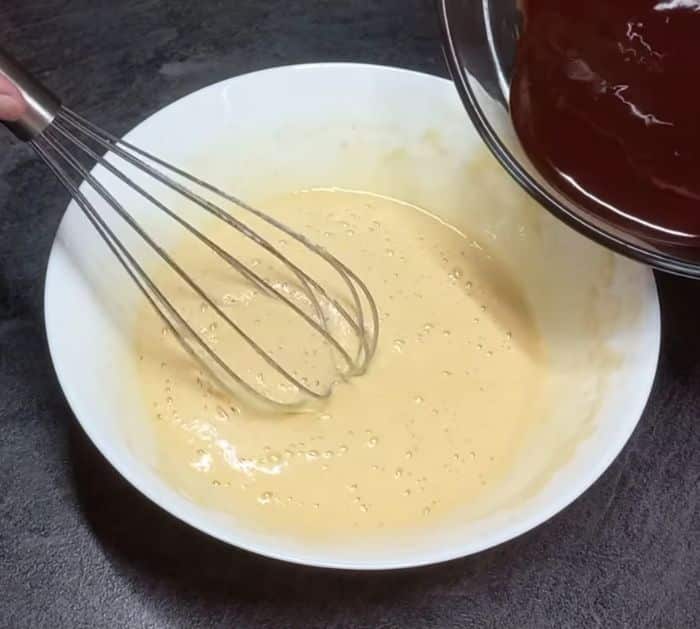 Krok 2
Keď sa dobre spoja a zapracujú, potrieme ramekinové misky rozpusteným maslom, potom ich poprášime kakaovým práškom, kým nebudú boky a dno pokryté, a polejeme čokoládovou zmesou. Vložte ich do predhriatej rúry na 220 °C alebo 428 °F, potom ich nechajte piecť asi 7 až 8 minút a po upečení ich rozložte na servírovací tanier hore nohami. Poprášte ich práškovým cukrom, podávajte a užívajte si!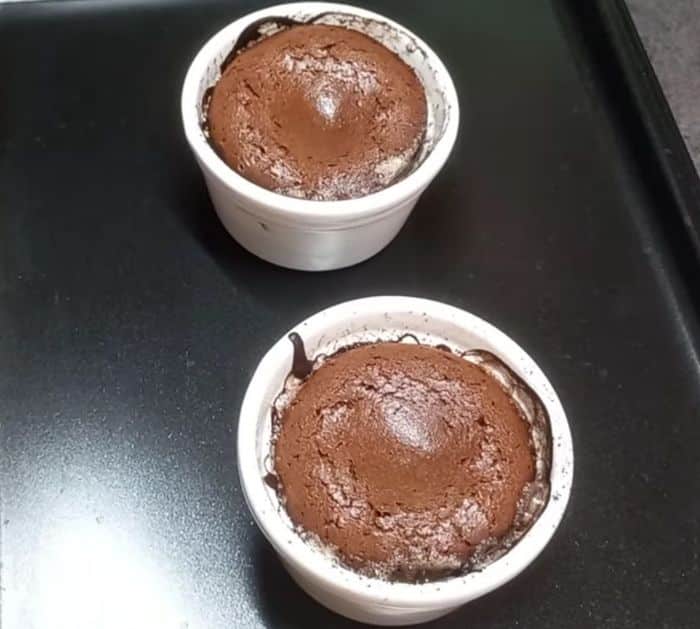 *Vďaka môj život, moja kuchyňa cez YouTube pre všetky tu použité obrázky. Ak sa vám páčil tento recept, určite sa vám budú páčiť aj jej ďalšie videá, takže navštívte jej kanál a prihláste sa na odber!
Jednoduchý recept na 15-minútový dezert z lávového koláča