Tento rýchly a jednoduchý recept na vaječný obal Opečené je jedným z najlepších raňajkových jedál, aké som kedy skúšal. Neobsahuje syr ani mäso, rovnako ako vaše bežné zábaly! Plnka je kombináciou rôznej restovanej zeleniny s paradajkovou omáčkou a majonézovou nátierkou. Nečakal som, že to dopadne tak dobre – chute sú šialené! Ak si to chcete urobiť doma, prečítajte si ďalej alebo si pozrite video nižšie, kde nájdete úplné pokyny.
Ingrediencie:
1 lyžica masla
2 polievkové lyžice nadrobno nakrájanej cibule
1/4 šálky na tenké plátky nakrájanej mrkvy
1/4 šálky jemne nakrájanej papriky
1/2 šálky kapusty
soľ podľa chuti
čierne korenie podľa chuti
chilli prášok
2 lyžičky oleja
1 rozšľahané vajce
1 čajová lyžička majonézy
1 lyžička paradajkovej omáčky
tortilla
Inštrukcie:
Krok 1:
Položte panvicu alebo panvicu na oheň a pridajte 1 polievkovú lyžicu masla. Keď je maslo rozpustené, pridáme nadrobno nakrájanú cibuľu a mrkvu. Duste asi 2 minúty na stredne vysokej teplote.
Krok 2:
Pridajte nakrájanú papriku a kapustu, potom dochuťte čiernym korením a čili. Duste asi 2 minúty na stredne vysokej teplote. Potom ho odložte.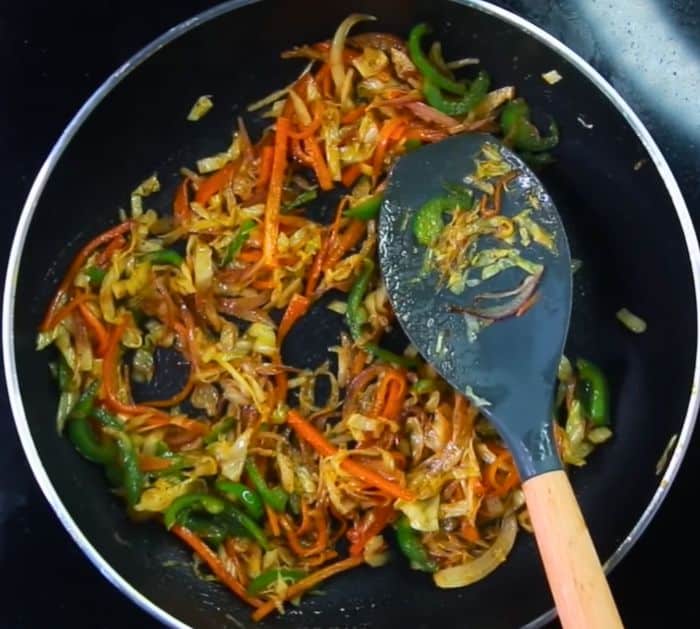 Krok 3:
Pridajte tortillu a 1 čajovú lyžičku oleja na čistú panvicu na teplo. Varte do zhnednutia a potom odstavte.
Krok 4:
Do tej istej panvice nalejte rozšľahané vajíčko. Nakloňte ho, aby sa vajíčko rozprestrelo. Okamžite pridajte 1 čajovú lyžičku oleja na boky vajíčka a potom vložte tortillu do stredu. Stlačte ho špachtľou. Keď je vajíčko uvarené, otočte ho na druhú stranu. Chvíľu povarte a potom položte na tanier.
Krok 5:
Na vajcovú stranu rozotrite 1 lyžičku majonézy a 1 lyžičku paradajkovej omáčky. Pridajte dusenú zeleninu do stredu a preložte strany. Na uchytenie použite špáradlo. Pred podávaním zabaľte spodnú časť do hliníkovej fólie. Užite si to!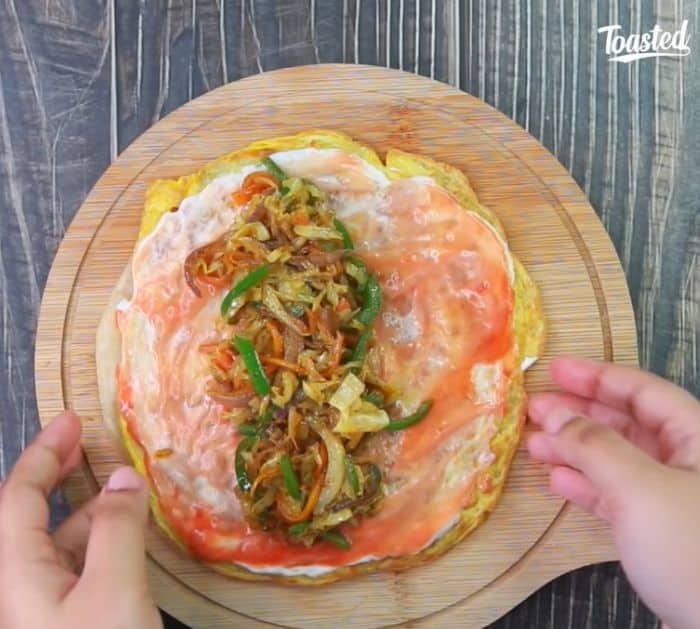 Rýchly a jednoduchý recept na obaľovanie vajíčok